We don't know why LinkedIn have decided that '500' connections is the magic number, but it is! Maybe they got the idea from 'Fortune 500'? Who knows?
When you join LinkedIn and you're building up your network, whenever you get a new 'connection', the number of your connections is displayed on your profile. Until, that is, you reach the magic number of 500 connections.
When you have 500 connections, you enter the big league on LinkedIn and you can hang out in the same camp as all the 'pro's'! Reaching 500 connections on LinkedIn is a bit of a 'rite of passage' because of the way LinkedIn display the amount of connections you have.
When you have reached 500 connections, your profile will simply tell visitors to your profile that you now have '500+ connections'! You could have 500 or 15,000 connections (in fact you can have anything up to 30,000), and your profile would still say that you have '500+ connections'. Crazy but true.
So you see, it is quite important to get to that magic number quite quickly.
The other reason for building your connections is to enable you to increase the 'reach' of your posts. The more connections you have the more people are likely to see your content. So the faster you can build your connections, the faster your authority on LinkedIn will grow. Right? Weeeeell…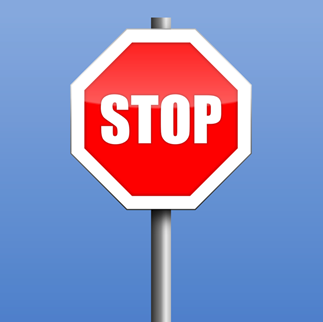 If you connect to anyone on LinkedIn just for the sake of numbers you will be making a big mistake. Be very careful WHO you connect with on LinkedIn. It is very tempting to connect with lots of people when you're starting out on LinkedIn but resist that temptation at all costs! It will come back and bite you in the bum – big time!
Who your connections are on LinkedIn has a huge impact on your experience on the platform. When you connect with someone on LinkedIn, their content will start to appear in your feed. For this reason it's important that you choose carefully who you connect with. When you get a connection request, don't just accept it – take a look at the person's profile and see if you want to connect with them. You wouldn't just go to the pub with any stranger would you? You'd want to know a bit about them first, so treat your time on LinkedIn the same as you would your time in real life!
As a 'newbie' to LinkedIn or as someone who hasn't been spending much time on LinkedIn, what is the fasted way to 500 – and still connect with relevant folk?
Read: 10 most common LinkedIn mistakes
Step 1: Invite your friends – LinkedIn can help you
LinkedIn is about building relationships so try to think of your activity on LinkedIn like being at a huge networking party. (Sorry to remind you of those heady crazy days!).
When you go to a party, who do you want to hang out with first? If you're like most folk, your answer will be people you know. Yes of course. Even if you know you have to 'mingle' and meet new people, it's always nice to start the party talking to folk you know isn't it?
Luckily, LinkedIn make this really easy for you! Using the 'import connections' tool, LinkedIn enable you to import your whole email list right into LinkedIn in 6 simple moves! It's so easy! This is all you have to do:
Click the My Network icon at the top of your LinkedIn homepage
Click Connections on the left hand menu
Click More options on the right hand menu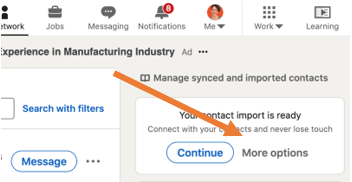 Type your email address in the field provided or choose a service provider from the list below the text box. Click Continue.
You'll be redirected to a list of your contacts who are already on LinkedIn. You can:
Check the boxes next to contacts you want to invite

Click Add Connections to send invitations
Then LinkedIn does the legwork for you by sending all these people a message request via LinkedIn, on your behalf! It's such a hassle-free way to get started don't you think?
Here's what LinkedIn says about the process:
"This will run a one-time upload of your address book contacts, as well as their detailed contact information. We periodically import and store details about your address book contacts to suggest relevant contacts for you to connect with, to show you relevant updates, and for other uses explained in our Privacy Policy. We'll never email anyone without your permission."
So, you see, it's completely legal and completely safe.
Let's move on to:
Step 2: Say hello to friends of friends – utilise your 2nd degree connections
Let's go back to that party for a moment (oh don't you just wish?!). You've seen someone over the other side of the room that you REALLY want to talk to. They may be your ideal customer or perhaps they work in a space where they can introduce you to lots of other relevant people. How are you going to get to talk to them?
You can go up to them and start chatting. That's one approach but it can be risky. First impressions are SO important that if you fluff it up, that could be the end before it's the beginning – if you see what I mean.
The other option is to have a look around and see if there is someone that you know who could introduce you to said person. Quick room scan and, yes! So you head over to your connection, ask them to introduce you. Sorted.
You can do the same on LinkedIn!
How to send a connection request to a 2nd degree connection
Once you've got a few connections try sending connection requests to the connections of one of your connections. These are called '2nd' connections on LinkedIn.
To find them:
Click the My Network icon at the top of your LinkedIn homepage
Click Connections on the left hand menu – same as previous
Choose a connection who you think will have some useful people in your network and click on their profile photo. This will take you to their profile
As long as the number of their connections is in blue, then you can click on here to see all their connections – all of which will be your '2nd' connections
Take a look through and choose who you'd like to connect to and click 'connect' on the right hand side
One thing you need to know about sending connection requests. Always add a note.
LinkedIn is about building relationships so start off correctly! If you don't add a note, you'll just be another faceless connection. Be a person, be human, say hello.
Tell them that you have a connection in common, maybe ask them if they know them or have they just connected on LinkedIn. Not everyone will reply but the more options you give them and the more 'personable' you are, the higher your chances!
Step 3: Join conversations
Unlike other social media platforms, the comments that you write in other people's posts can really help build your connections. It is possibly the most effective way of growing your network – especially when you're starting out.
So, back to that networking party. Your friend Jan is chatting to two people you don't know. You go over and join them. Jan introduces you to the newbies and explains that they're talking about hill walking, which you happen to do a lot. So you join the conversation and BOOM! You have two new 'friends'. On LinkedIn, you'd have two more connections! They may be potential clients or they may become the most amazing 'referral' people. Either way, you've grown your network in a genuine way and not had to be 'salesy'.
So my lovely LinkedIn learner, there you have it. 3 really simple things you can do on LinkedIn to grow your connections to that magic 500 figure really quickly!
There are a tonne of other things you can do once you've reached that milestone but, as I like to keep things manageable, this will be enough for you for now!
If you follow this procedure and you get to 500, I would LOVE for you to tell me when you're there and how long it took you.
Come and find me on LinkedIn right here, or read my other blogs.