With 660 million members on LinkedIn there's certainly ample opportunity to grow your business. Although LinkedIn is the largest business networking platform, you need to connect with people on a deeper level if you're going to grow your business.  LinkedIn's direct messaging function is a powerful tool when it comes to making those connections.
You might be thinking that sending someone a message might come across as "salesy" and you avoid doing it, but in order to convert leads into clients, you need to connect directly with people.
Why use LinkedIn's direct messaging
Builds trust
Commenting on other people's posts is where a relationship on LinkedIn is likely to begin, but it's in the direct messages that the relationship really starts to grow. Direct messaging is more personal and enables someone to really get to 'know' and 'trust' you.  The best way to gain trust is to be trustworthy – genuinely think about your connection's needs and how you can help them.
Easier and faster than email
Reading and replying to a DM in LinkedIn is so much easier than opening and replying to an email.  If someone is already on the platform, it's very easy to scan through messages and reply to any of interest.  Just like email, it's possible to mark a message as unread to view later.
Less formal than email
Direct messages can be more casual.  You don't need to start with a salutation such as "Dear…." or sign off with "Kind regards".   The easy-going nature of the exchange means that the relationship has the chance to build faster – you get to enjoy a relaxed chat rather than a business exchange.
More 'direct' than other communications
Except for those who use personal assistants to post on LinkedIn for them (which is a breach of LinkedIn's policy), most people on LinkedIn are in charge of their own DMs.  When you send a DM, you won't be met with an "out of office" and your email won't run the risk of being sent to their spam folder. 
When to use direct messaging
You cannot send someone a direct message on LinkedIn unless you are connected to them or you are sending them a connection request.  They might also have the Open Profile Premium feature enabled, meaning you can message them for free without being connected.  However, in order to build those meaningful relationships, you'll want to send a connection request.
Once you've connected with a person, you can send a direct message at any time, but it's usually best to wait until you've communicated with them a few times in the feed before transitioning to a direct message.  Doing this means they'll already be familiar with your posts and your business before you start communicating over direct messaging.
What to say in your message
Direct messages could – and should – be the start of a solid relationship. Your first DM to someone should be an introduction, so keep it light and informal in tone. You could ask a question or comment on something in their profile or about a post they've written.
The key thing here is to have something valuable to say.  If you give a reason for the DM they'll be more likely to reply.
Messaging someone with a sales pitch or a message that's pretending not to be salesy is to be avoided at all costs. Direct messaging is about building relationships and not about selling. Those who try to sell in their DMs generally have very little success and risk losing connections and followers, so keep your messages genuine, friendly and informal.
Schedule conference calls via DMs
Once you've got a solid exchange, you'll likely want to take your communication to the next level which is often through a video call.  If you're both ready to start a call right away, here's how:
    Go to their profile page and click on "message"
    Click on the video icon
    Choose which video platform you want to use and sign in
    Then you can start a meeting right away or schedule one for later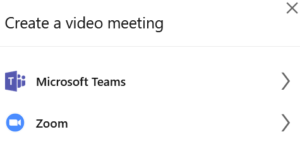 It won't link to your scheduler, so it's best to put it in your calendar immediately.  This feature is not ideal for scheduling calls in advance.  You could paste a Zoom or Calendly link in a message instead.  
Don't miss your direct messages
The trouble with direct messages is that it's quite easy to miss them.  LinkedIn's default is to display your DMs in chronological order. So, if you have a lot of messages, the older ones won't be visible on your screen. The more DMs you get, the further down the list they go and it's very easy for DMs to go unread.
Thankfully, there is a very simple fix for this.
Click on 'Messaging' at the top of your profile. Then click on the filter icon beside the search bar. Then click on 'Unread'.   You might be surprised at just how many unread messages there are.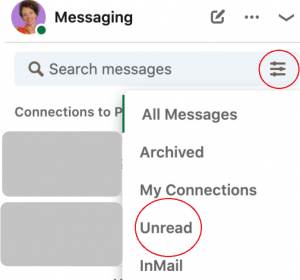 No matter how old they are, it's best to reply and apologise for not getting back to them sooner because their message slipped down the feed.
Make it part of your routine to check for unread messages at least once a week and avoid missing any in the future.
And finally….from LinkedIn's direct messaging to real-life connections
Your activity and responses on LinkedIn can give potential clients a glimpse into how you run your business – and can directly affect whether they choose to work with you or not.  By taking the time to create solid connections, respond to all your messages and share something valuable whenever possible, you'll be able to get the most out of LinkedIn's direct messaging feature.