With LinkedIn usage growing at a considerable rate from March 2020 during lockdown, most of us know the importance of creating a presence on LinkedIn.
LinkedIn has now reached 675 million monthly users (as at Dec 2020). This gives you the potential to sell to publicise your goods and services to a huge audience.
Research from several sources also reveals that:
In March of 2020, professionals watched more than four million hours of LinkedIn Learning content — a nearly 50% increase month-over-month. (LinkedIn)
More than four million LinkedIn members were hired through the platform in 2019. (LinkedIn)
In a study of over 5,000 businesses, HubSpot found that traffic from LinkedIn generated the highest visitor-to-lead conversion rate at 2.74%. This is almost three times or 277% higher than both Twitter (.69%) and Facebook (.77%). (HubSpot)
The importance of utilising LinkedIn for your B2B company or for job hirings is more important now than ever before in our history. But how can you make LinkedIn work for you without simply adding another time-consuming social media platform to your already busy day?
LinkedIn success really can be achieved in 30 minutes a day. Yes, you really can make an impact on LinkedIn without spending hours and hours posting and engaging on other people's posts.
Read: How to get 500 connections fast
(If you're interested in knowing more about my programme where I focus on creating a presence on LinkedIn in half an hour day, please get in touch).
The LinkedIn algorithm works in a certain way to help your content get more exposure, (for more on the LinkedIn algorithm you can read this article).
There is another way that you can expose your content to more people without spending ages re-posting, re-scheduling or directing people to particular articles.
LinkedIn give you the facility to showcase your best performing or your highest quality posts right on your profile so anyone visiting your profile can see them.
'Featured Posts' is a fantastic tool which means that your posts can keep coming back into circulation. It's a bit like that coffee table book you've had for years. When someone sits on your sofa (if you can remember the day when that was allowed ????), they pick up the book and have a look through. So every visitor to your sofa has the potential to read that book. Every time someone opens it, a new conversation ensues, no matter how long that book has been there.
It's the same with 'Featured Posts'.
If you think about what happens to your content on LinkedIn in this way:
You join LinkedIn in year 1 and have 10 connections and 20 followers. You spend hours writing a blog which you're really proud of.  All your connections and followers comment on it/like it etc and, as a result, it gets you some more connections and followers.  6 months later and you now have several hundreds followers and connections.  Don't you think your new connections and followers would be interested in that blog post too?  But how will they see it?  You could re-post it of course and that would be a sensible thing to do, but what about people who connect with you a month after you've posted your greatest piece of work? 
Read: Should You Post At The Weekend?
There is a chance they may see it (as I said the LinkedIn algorithm has a great way of spinning content round again (ah yes, the washing machine analogy I use in this blog!), but you can put it right in front of their hungry eyes by placing it in your Featured Posts section on your profile.
Here's the 'customer experience' for you: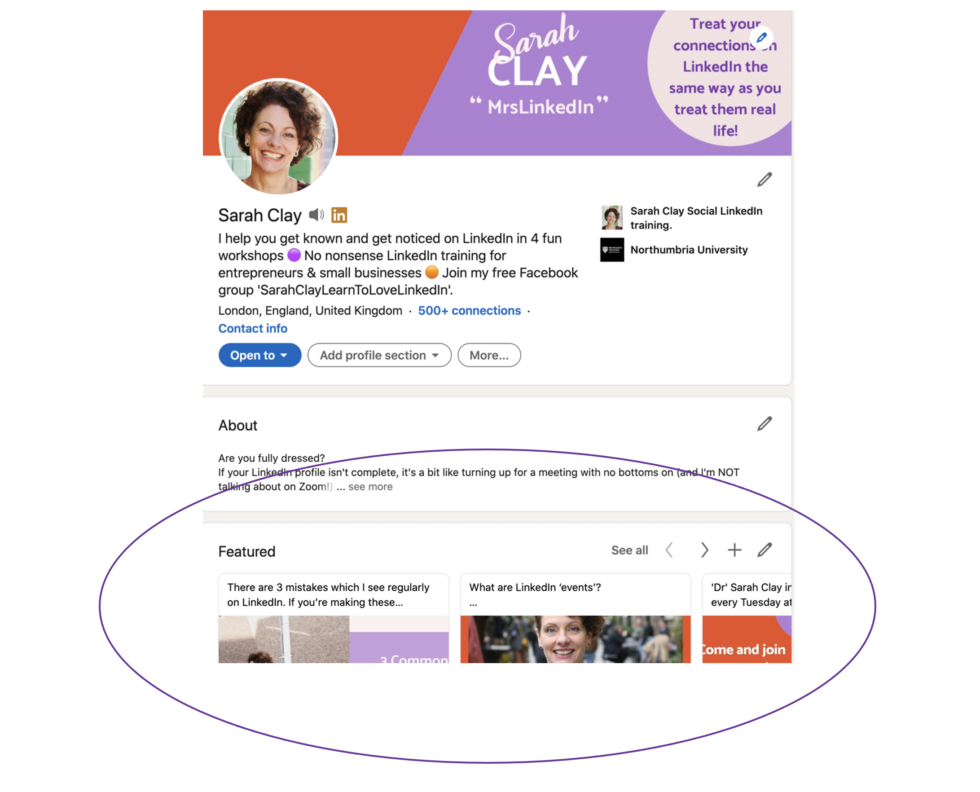 Your featured posts sit very prominently on your profile and anyone thinking they look interesting enough to read just has to click on the thumbnail which takes them right to that post wherever it sits in your feed.
This also creates another huge potential for you as that person is then surrounded by all of your content and may come across other articles and blogs they end up reading. All this is great brand building stuff for you!
Read: Should You Post At The Weekend?
You can see that 3 featured posts are visible and there is a clear call to action to 'see all'.
There is also a neat wee 'hack' you can employ – read carefully!
Let's say you wrote a post 2 years ago and the subject of that post is suddenly hot news.
You featured the post when you posted it 2 years ago but of course you have featured many other posts since and it has disappeared from the featured section.
All you have to do is re-feature it and it will appear at the 'front' again. You don't even have to re-post it in your feed. (Although you may want to do that too which would further help engagement and reach of that post).
HOW TO 'FEATURE' A POST ON YOUR PROFILE:
When a post is successfully posted on your profile, simply click on the 3 dots top right of the post then click on 'Feature on top of profile'.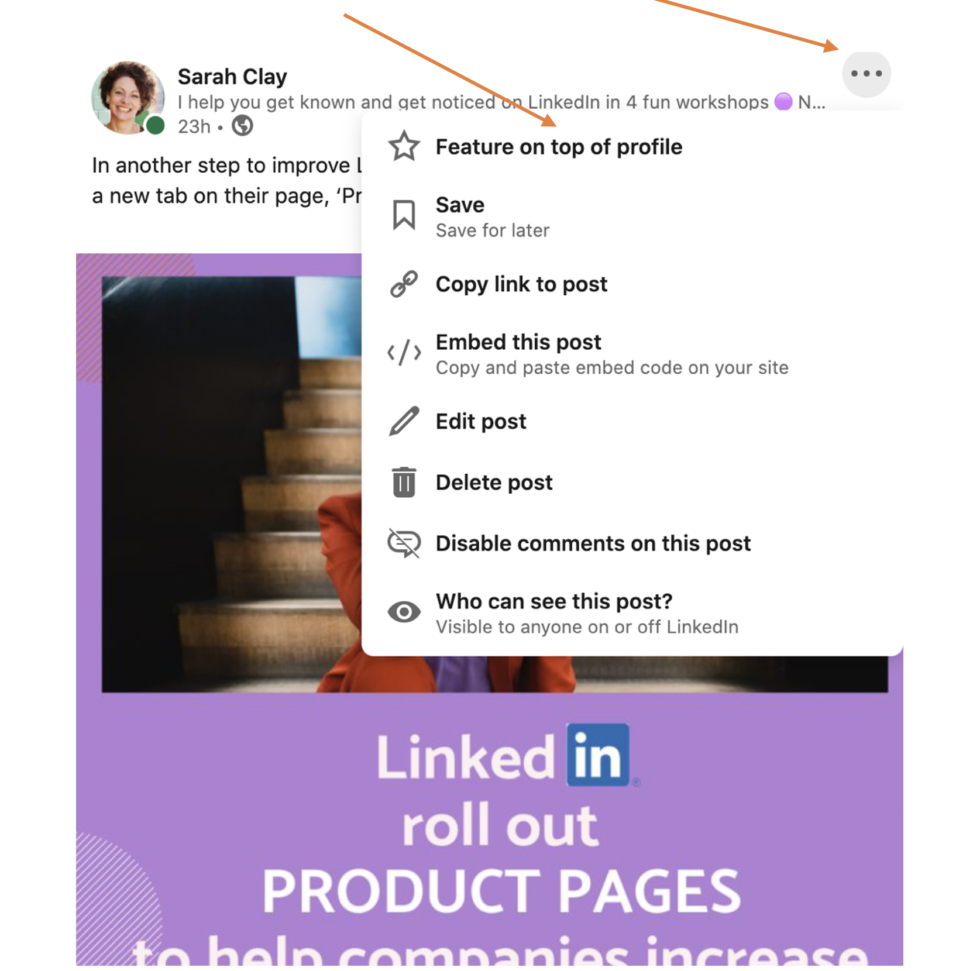 It really couldn't be more simple – for both yourself to activate 'Featured posts', and also visitors to your profile to read them!
So, head over to your profile now and see if you have any posts to feature on your profile.
If you've found this article helpful, please
I look forward to connecting with you!