Source: ProxyClick
You probably spend a lot of time liking, commenting and sharing content posted by your LinkedIn connections, but do you share content posted by your colleagues?  With LinkedIn Teammates, a feature that was launched in 2019, you can keep up to date with what your colleagues are doing. You can comment on their latest project, offer congratulations on an achievement or chat about what's trending that day.  
If you don't want to miss posts from your colleagues, then LinkedIn Teammates is a great tool. In fact, users are 60% more likely to engage with a coworker than another connection.
Like with a lot of features that LinkedIn rolls out, it won't be available to everyone.  But if you do have it, it's a pretty nifty tool to have.  
Benefits of LinkedIn Teammates
#1 – Increase your reach
Using LinkedIn Teammates increases the "reach of your posts", meaning that your content will be seen by more people and therefore an easy way to grow your professional network. 
# 2 –  Show that you appreciate your colleagues
Maybe some of your colleagues work on another floor, or in a different building, or you're all working virtually.  So you can't get together to celebrate a work milestone or another important achievement.  With LinkedIn Teammates you can help highlight your colleagues' achievements by commenting and sharing their posts.  It helps foster a sense of community and support even when you are physically apart.
# 3  –  Stay in touch even when they've left the company
If you or a colleague leaves the company you'll still remain as a connection.  With LinkedIn Teammates, you'll be able to keep in touch and who knows, they might be able to refer you to the next great job you are applying for, so you might need to ask them for a recommendation.
How does 'Teammates' work?
Once you've added someone as a Teammate, you will be notified whenever a colleague or manager publishes a post, shares or comments on someone else's post or has a birthday or work anniversary (which could save some embarrassment or even win you some brownie points).
Who can be a teammate?
To add someone as a Teammate, they must be working at the same company.  Even if you are working on the same project, but at different companies, LinkedIn Teammates won't work.  There is a limit on how many people you can connect to.  At this time, you can add up to one manager, 19 teammates who report to your manager, 20 direct reports, and 30 other teammates.
So while the feature doesn't let you connect with everyone in your organisation, it does allow you to keep up to date with those you work with fairly closely.
Can you use LinkedIn Teammates to spy on your employees? 
Well, not so much 'spy' exactly.
You can certainly keep an eye on them but, in order to preserve people's privacy, when you add someone as a Teammate, they get a notification that you want to share the Teammates feature with them. They will have to verify they are a co-worker of yours before you can start seeing their updates.
How to connect to a teammate
Do a quick search to ensure that the person you want to add is a current employee at the company you work for.  You also need to be connected with any prospective Teammates via your personal profiles.
Click on the  'My Network' tab at the top of your home page.
Then click on  'Teammates' in the menu.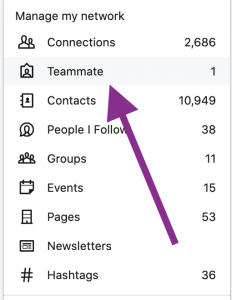 3 categories will appear
Click '+ 'on the relevant category
Start typing a name to add them
When one of your team members gets the notification, all they need to do is just verify you are a co-worker. 
How to remove teammates from LinkedIn
Sometimes you'll want to remove a teammate from your LinkedIn connections.  It might be because you don't like their content or you're just tired of seeing what they're sharing.   The most obvious way to remove someone is to go to their profile, then click on the "more" button and then click "unfollow".  If you do it this way, they'll be able to see that you viewed their profile and then see that you've unfollowed them.
An alternative way to unfollow someone is to click on My Connections at the top of your LinkedIn screen.   Then click on Connections.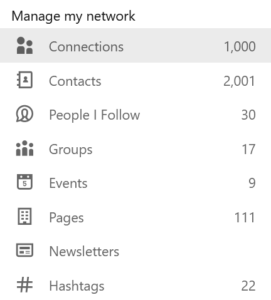 You can then search for the person's name.  Clicking on the three dots gives you the option to unfollow this connection.
When you unfollow someone, they won't be notified that you've done so.   They'll now be a 3+ connection.   If you ever want to connect with them again you can do so or if they want to connect with you in the future, you can decide at that point if you want to or not.
And Finally….
To make the most of LinkedIn Teammates, log into Linkedin at least once a day.  Check for notifications on your colleagues' activities so you can like, comment and share their posts.