We all need a break from work so it's important that we take time off to recharge our batteries and spend time doing other things. The things is though, that often the things that happen to us when we're not working present good content opportunities. We may see something from a different perspective for example or find ourselves thinking about a situation from a non-'work' angle which may be worth imparting to our audience.
However, is it worth spending time actually posting on LinkedIn during the weekends and holidays? We always want to maximise our time on the platform so it's important that we're posting when our audience is present to get the most out of LinkedIn. One of the things I really like about LinkedIn, which works in a very different way from the other platforms, is the way the algorithm works to re-generate content.
Have you noticed how some of your posts on LinkedIn get a comment or a 'like' days, weeks and even months after you've posted them?
Read: How to increase the reach of your posts in 2 easy steps
Even though content does stay around and re-appear on LinkedIn, is there still an 'optimum' time or day to post? As LinkedIn is a networking platform for business, it would be easy to assume that content doesn't perform very well at the weekends and holidays. There have been several studies which back this up. Some research clearly state that optimum times for posting content on LinkedIn are Tuesdays to Thursdays between 11am and 2pm.
@hubspot delve even deeper into LinkedIn statistics and break down best posting times on LinkedIn by industry in this article: https://blog.hubspot.com/marketing/best-time-post-on-linkedin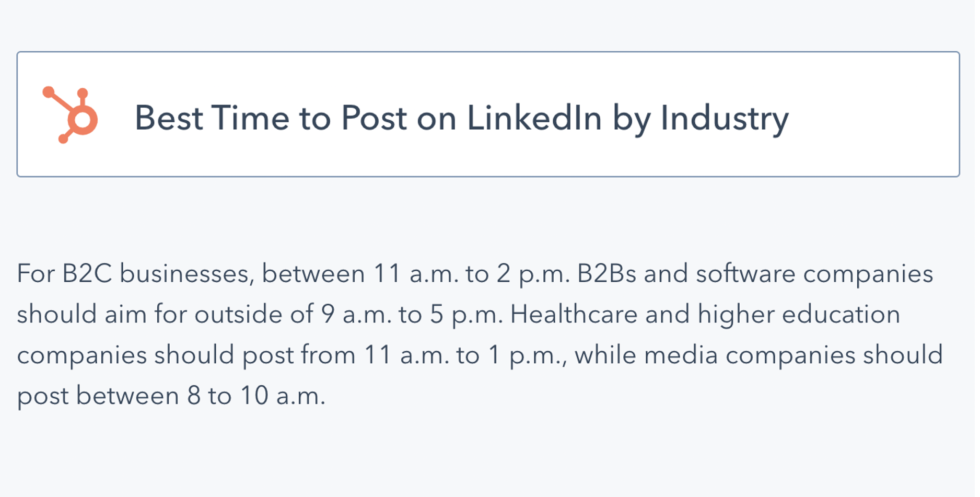 Hootsuite, however, come up with slightly different advice:
The best time to post on LinkedIn is 7:45 a.m., 10:45 a.m., 12:45 p.m., and 5:45 p.m. EST.

The best day for B2B brands to post on LinkedIn is Wednesday (followed by Tuesday).

The best days for B2C brands to post on LinkedIn are Monday and Wednesday.
So, you see, it's not 100% clear cut.
A problem does present itself here however, which is this: what if your audience are all over the world? As geographical barriers are breaking down daily, many of us have an audience across the world in many different time zones. Writing a posting schedule to accommodate a world-wide audience is a pretty complicated process.
So, I have been delving into the stats of my posts over the last 6 months and I have to say the results have been interesting!
I measured likes and comments to form an aggregate figure to see which are my best performing posts.
My best performing post during that period of time was a photo with a question which I posted on a Sunday at 3.47pm!
Next up in joint 2nd place were both posts linking to articles on my website. One posted at 9.02am on a Thursday and the other posted at 9.03am on a Monday!
As I have joint 2nd's, I've decided to go to 4th place which goes a curated post. I curated an article I found on Medium, added a comment and posted this on a Sunday at 11.31am!
I haven't delved deeper into WHO engaged with my posts. This is obviously relevant information as it would affect my targeting. It may be that even though I got a higher engagement at the weekend, the people who engaged aren't my target audience. They may be fellow LinkedIn trainers for example. What these figures do show, very clearly, is that Sundays – for me – are a good day to be posting on LinkedIn!
Who, what and when people respond to your posts depends on many other factors also so any results like these must be looked at in context. Factors such as the content and style of your posts, what industry you're in, whether you're B2B or B2C etc will all play a part in determining when and what to post.
For me, though, I know that Sundays are a good posting day so I will continue to post on a Sunday as well as during the week.
One thing to learn from this is that it is worth keeping an eye on your LinkedIn metrics. Why don't you take a scroll back through your previous posts over the last few months and see what you find out?
Do let me know and see how they compare to mine – maybe I'll be seeing you on LinkedIn more at the weekends?