What are LinkedIn Stories?
LinkedIn Stories are a way of sharing content with your audience for a limited time only.
Stories don't form part of your 'feed', they sit behind your profile photo.
They're only available on the mobile app, so if you head to your mobile app now you'll see it looks a little different. You'll see a whole load of profile photos along the top.
If your photo is there top left with a + sign, this means WOOP WOOP!, you 'have' Stories! So you can start to create Stories right away.
Why post LinkedIn Stories?
? What is nice about Stories is that they enable you to show a level of authenticity which you wouldn't want to show on your feed. By showing yourself working at your desk, or on your way to a meeting you can show your audience the 'real' you which they wouldn't want to see on your feed.
The film aspect of stories is particularly well designed to optimise this.
If people know you better, they're more likely to want to do business with you right?
? When a platform rolls out something new, it wants it to succeed. This means that if you post Stories, they will get a 'leg-up' by the algorithm so they will be 'fed' to lots of people.
This will, in turn, help the rest of the content you're posting right now too! Not only will you suddenly be seen by new people on LinkedIn as, this is another way to get your content out, but the algorithm will likely favour the rest of your content too as a way of saying 'thank you' or 'you're a good LinkedIn user at the moment so we like you.'
Read: How to create an 'event' on LinkedIn
How to post on LinkedIn Stories
As I mentioned, they're only available on the mobile app
Simply head to the app on your phone
Press the circle with your profile photo in it
Press '+New Story'
You will get a black screen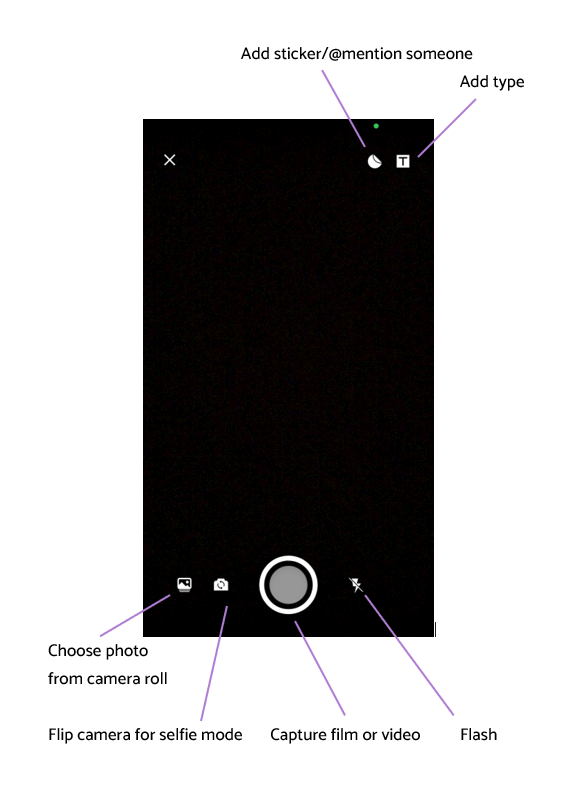 To choose a photo from your camera roll
Press the landscape icon which will take you to your camera roll
Choose a photo
 To take a photo using the app directly
Choose whether you want flash or not (icon on the right of the grey button)
If you want to photograph yourself, flip the camera using the icon next to the grey button
One short press of the grey button and there it is!
To post a video (This is easy peasy!)
If it is a video of yourself, flip the camera first by pressing the icon next to the grey button
Press and hold the grey button in the middle and start filming! You have 15 seconds
To add text
Press the T at the top and start typing. You can change the style and positioning of the type using the icons top centre:

To add stickers
These are fun things to make your Stories stand out (I'm hoping there will be more added soon as they are a bit limited.)
Press the odd circle icon at the top and scroll down. Press on the sticker you want to add.
Using one finger you can move the sticker and using 2 fingers you can change it's size and angle
You can also @mention someone here too -just click it and your connections will appear – very neat
There is also a 'question of the day' here – I have a feeling we'll all get a bit tired of seeing that!
Then press 'share story' – done!
What to post on LinkedIn Stories
As Stories are only available for 24 hours, it's ok, and correct, to put up less 'polished' content than you would on your feed. Stories are meant to show 'disposable' content. Stories are for more 'behind the scenes' content. You can show a side of you or your business which you wouldn't want to put on your feed.
You can post photos/images and also short films up to 15 seconds long so there is a LOT of potential.
If you post a film on to your feed, you should make sure it's reasonably polished. You would always make sure your framing was right, you would use a tripod and make sure you had good sound, lighting and captions are added.  On Stories it's fine to hold the phone (portrait, NOT landscape!), while you're walking and talking. This 'reportage' style works really well for Stories.
What size and resolution should my images be?
Video sizes
Resolution: 1080 (w) x 1920 (h) px
Frame: 30 FPS, square pixels
Supported file types: H264, MP4
Aspect Ratio: 9:16
Image sizes
Resolution: 1080 (w) x 1920 (h) px,
Supported file type: PNG, JPG
Aspect Ratio: 9:16
So there you have it, your complete guide to the brand new feature on LinkedIn, Instagram Stories! Any questions?  Please get in touch: [email protected]